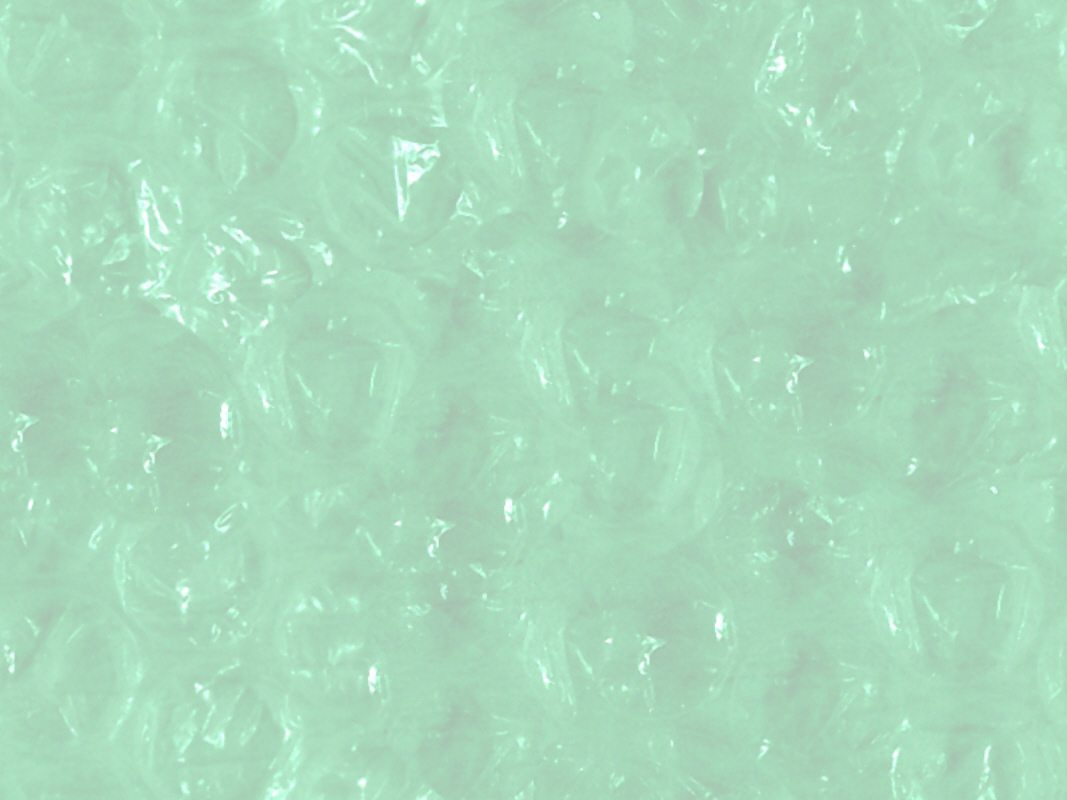 General Federation of Woman's Clubs - Illinois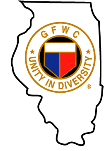 The Herrin Womans Club was organized in 1907 and federated in 1908.
We currently have 24 members and 2 groups- Literature & Art and Music.
Our meeting locations vary:
Members Homes
Herrin Library
1st Baptist Church
Local Restaurants
The Literature & Art group currently meets the first Wednesday of the month around noon.
The Music group meets 1st Saturday each month, times vary.
Meetings are held September through April each club year.
General Business meetings combining both groups are conducted in September, January and April of each club year.
If you live in the area near Herrin, Illinois and are interested in joining a dynamic group of lovely ladies who are interested in improving our community and enriching the lives of our members, please contact:
Nikki Staley
P.O. Box 215
Energy, Illinois 62933
618-521-5934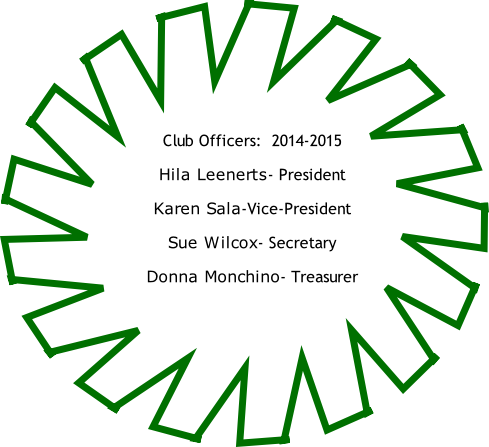 Club Committees:
Ways & Means
Finance
By-laws
Nominating
Auditing
Scholarship
Club Projects for 2014-2015:
Cystic Fibrosis, Autism
Friends of the Herrin City Library
Gumdrop Program
Herrin Doughboy Plaque Fund
Herrin Education Foundation
John A. Logan Scholarship
HHS Project Graduation
Veteran's Hospital Nursing Home
Williamson County Child Advocacy Center
Williamson County Family Crisis Center
Herrin House of Hope
T.M.A.D.
Herrin Food Pantry
Herrin Halloween Trail of Treats
SIH Cancer Center
THE HERRIN WOMANS CLUB SPEARHEADED A DRIVE TO RAISE MONEY TO RETURN A PIECE OF HERRIN HISTORY TO THE CITY.
A MURAL, 12 ½ FT. BY 6 ½ FT, TITLED "GEORGE ROGERS CLARK CONFERRING WITH INDIANS NEAR HERRIN, ILLINOIS", ORIGINALLY HUNG IN HERRIN'S OLD POST OFFICE. THE POST OFFICE WAS TORN DOWN IN THE 1960'S TO BE REPLACED BY THE PRESENT BUILDING. IT WAS THOUGHT THE MURAL HAD BEEN DESTROYED.
THE UNITED STATES POSTAL SERVICE INFORMED THE CITY OF HERRIN THE MURAL STILL EXISTED BUT HAD BEEN BADLY DAMAGED THROUGHOUT THE YEARS. PARMA CONSERVATION, LTD. IN CHICAGO QUOTED A COST OF $28,000 TO RESTORE THE MURAL USING THE HIGHEST MUSEUM STANDARDS. THE USPS TOLD HERRIN OFFICIALS THEY WOULD PAY $14,000.00 LEAVING THE OTHER $14,000.00 AS HERRIN'S COST. THE CITY HAD A TENTATIVE PLEDGE OF $7,000.00. THEREFORE LEAVING $7000.00 TO BE COLLECTED.
UPON BEING RESTORED, THE MURAL WILL AGAIN HANG IN HERRIN'S POST OFFICE. THE USPS HAS TOLD HERRIN OFFICIALS THE MURAL WOULD REMAIN IN HERRIN IF AT ANY TIME THERE SHOULD NOT BE A POST OFFICE. CITY OFFICIALS ASSURE CITIZENS OF HERRIN THE MURAL WOULD ALWAYS BE HOUSED IN EITHER THE HERRIN CITY HALL OR THE HERRIN CITY LIBRARY.
THE WOMANS ORGANIZATION SOUGHT DONATIONS FROM ALL HERRIN RESIDENTS, CIVIC AND FRATERNAL ORGANIZATIONS, VETERANS ORGANIZATIONS, BANKS, BUSINESS AND INDIVIDUALS.
The club did raise the needed funds to restore the mural...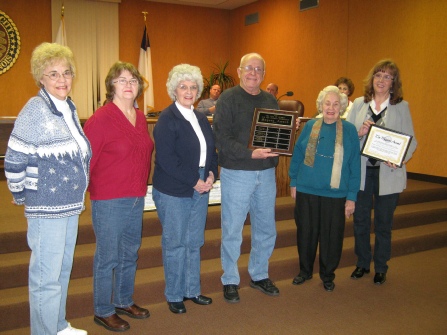 Club members who attended an award presentation - Mayor's Award ... in regard to the fund raising efforts of the club for the post office mural restoration project.
Pictured are: members Karon Bauernfeind, Cookie Goodwin, Pam Hendricks, Mayor Victor Ritter, member Wilma Miriani and Club President Nikki Staley.
To get more information about Illinois Post Office New Deal Art
Please click on this link.